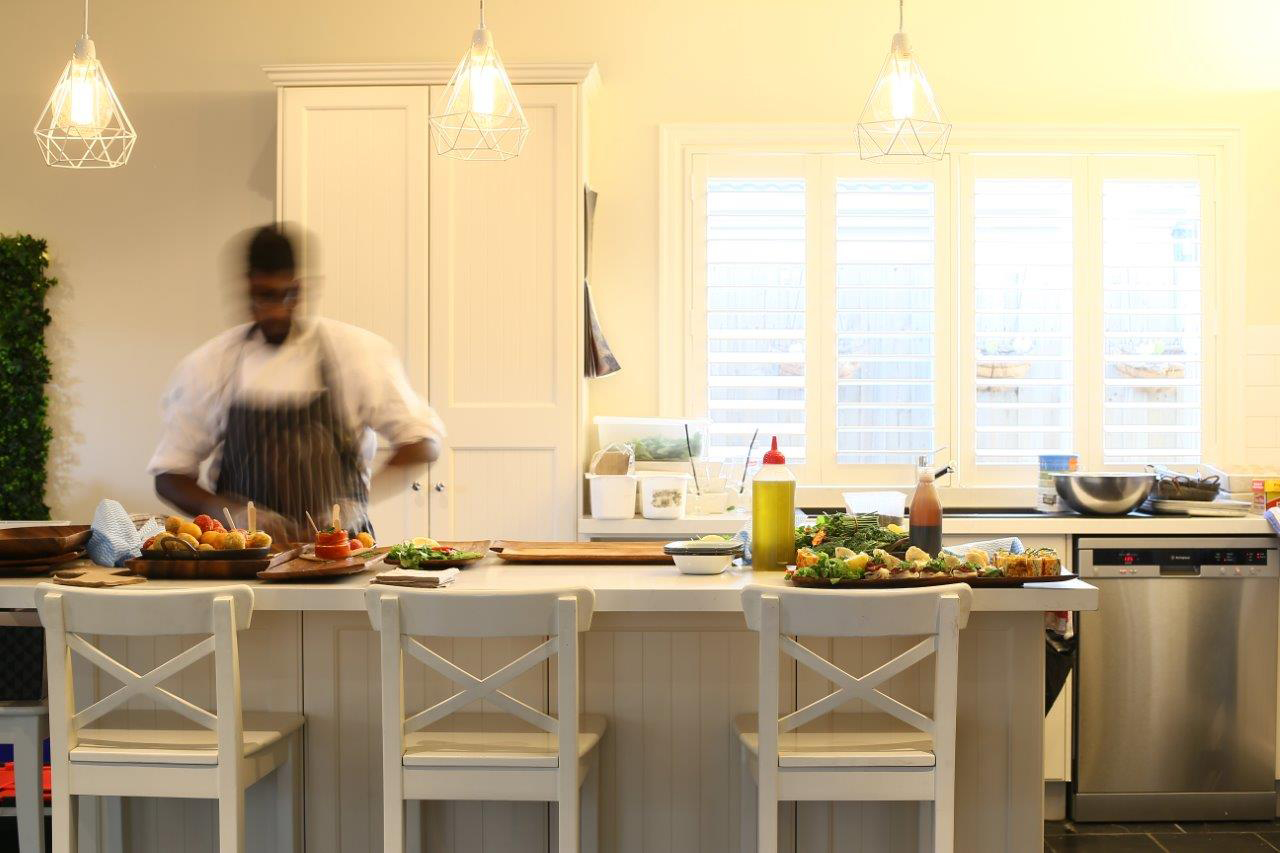 These days there is not to many things more important than the perfect party. Ok well that's a lie – there's a lot more things important than the perfect party BUT that doesn't mean we are not allowed to indulge ourselves.

In an age of Instagram #foodporn and Facebook live it's all about the what are you doing right now, how good does it look and how many of your friends and family are going to be raging that they blew off your 42nd birthday invite to stay at home and watch Masterchef on the TV – when they could have been experiencing culinary masterpieces IN REAL LIFE. Crazy I know.

The family gathering is no longer about pulling the old faithful Patties out of the freezer and leaving them to the flies for the rest of the night. We now have the world at our finger tips – and this includes a professional chef & their kitchen.

The vision is that you don't have to go anywhere, you don't have to do anything, all you have to do is swap your Moccasins for a pair of strappy heels at the last minute & then simply step out into your own back yard, or leave them on, whatever – here at Going Gourmet we want to bring the flexibility for you to do what you want. We'll serve you no matter what the attire, no matter what the location and you can even run in side and have a cheeky nap half way through the night and we won't tell a soul.

Our chef will be cooking in your kitchen, making themselves at home, even making sure your kids keep getting those sneaky chips on the side whilst pumping out an array of mouth watering food for your unsuspecting guests outside who by the end of the night are simply going to think you are the party QUEEN. How does a rare seared beef sound with ollo rosso cherry onion jam served upon oven cooked Turkish bread sound? What about confit duck and apple spring rolls with a hoi sin dipping sauce? By the time you move on to the hand cut, New Zealand Calamari hand dusted in salt & pepper crust with a squeeze of fresh lime – you'll swear you'll be seeing Matt Preston poking his head over the fence.

The point is celebrating life and good food no longer comes with the 3 days in the kitchen prior. We want to bring you an experience from start to finish and fit in to your perfect scenario. And we haven't event covered the barbeque yet! What says 'australian' 'fun' and 'family' more than firing up the barbeque just when everyone didn't think it can get any better. Steaks sizzling, skewers circulating – it's the perfect end to a night.

Our team is with you all the way, ticking the boxes and tying of the loose ends because this is what we do, food is what we do. We know how busy life can get but we also know that at that one point in the night, when you're taking the perfect mouthful of beetroot & dukkah sea salted arancini & looking around at your friends and family – that you will know that this is something really special & that's what we love to be a part of.

We also do the dishes… #cantlose !

The Gourmet Chef