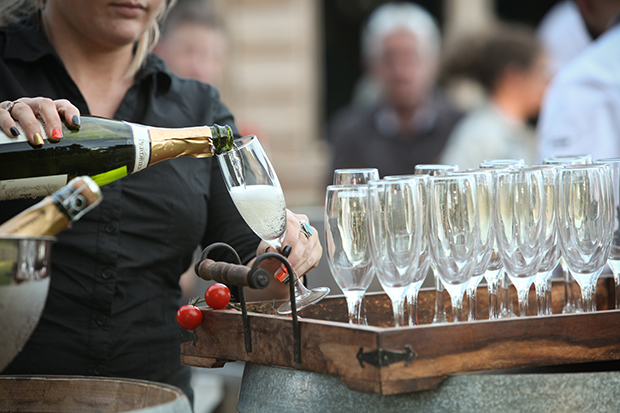 So the silly season is upon us…well almost!

The daylight is stretching longer and the weather supposedly heating up (come on Melbourne?) and before we all know it we will be rolling into December with the Christmas Carols playing and the Christmas parties kicking on.

It can be the best time of year and the busiest time of year because one thing is for sure- the food & drinks will be flowing! Everyone is talking about this year's Christmas party and what will be planned. There's so many options to choose from but once you have your location locked in the next big deal is of course, the catering!

First thing to think about is do you want to have a stand up cocktail party where everyone just drinks and mingles and enjoys delicious bite size pieces handed around to them
OR
do you want to have your guests sitting down for a bit, having a nice big hearty plated meal before the real festivities begin?

Generally, we find that the cocktail party is a popular way to go in that it offers a lot more flexibility for the night and you also don't have to find a space that can fit a full table and chair set up. This encourages all your team to interact, chat with different groups and ultimately relax and forego the formalities associated with a sit down.

For example, when your first early bird guests start to arrive no one wants to stand around empty handed so you'd want a nice big spread of antipasto, cheese & dips which are always an ice breaker. Nothing brings the accounts department and the PR Reps together like some Brie!

Cool canapes kick off once more of a crowd has arrived and our friendly staff explain the delicious delicacies – there's a few interesting ones in there including Peri Peri chicken fillet on a sweet corn & coriander fritter and then we have the Rare Seared Beef on Turkish bread, house made ollo rosso jam with shaved rocket. Staff will have a chat & explain, but ultimately let the flavours do the talking!

Hot canapes are where all the fun is, with some crowd favourites such as fresh salt & pepper calamari, pulled pork rolls in a brioche bun and assorted hand rolled arancini balls!

When it comes to the drinks department, an all-inclusive beverage package is the way to go. People aren't looking at the label on the wine at these types of things – they just want it to be free! A beverage package allows us to worry about the quantities, the transport & storage of large amounts of beer & wine. We source great local product (which is of course tried & tested by ourselves) so we know that what we're serving will suit all pallets whether someone is after the perfect sparkling or a hearty red. Our beer lists consists of the crowd favourites such as Carlton Draught & Stella, as well as the ever popular boutique beers, Hawkers Pale Ale and Fat Yak.

Outsourcing catering for your end of year event is the most flexible way to make your plans & choose your location, because no matter when or where, you know you can get amazing food & drink service to make it a day or night to remember!