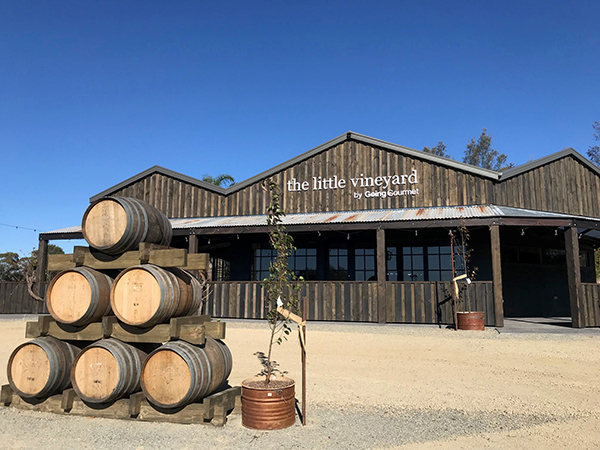 Here at Going Gourmet, we like to keep busy! We are so excited to present our latest Wedding Venue, The Little Vineyard. This beautiful space combines the intimate and rustic charm of the country with rolling view views from the Yarra Valley to bring you a truly unique escape for the perfect wedding.

The Little Vineyard had been a family-operated function space for years until Going Gourmet discovered the space in 2018. Despite its rundown interior, we saw amazing potential hidden within it. As one of Melbourne's leading catering companies and owners of Baxter Barn, one of Victoria's most popular wedding venues, our industry experience made us the ideal team to renovate The Little Vineyard and transform it into a stunning wedding and events space.

We took over the venue in October that same year with one goal in mind—to reveal its glowing beauty for all to discover and enjoy. The breathtaking view of the valley as a wedding ceremony backdrop alone was nearly enough for the venue to hold its own, but we wanted to elevate it with a contemporary and rustic space adorned with raw timber detail. We took down the large, outdated bar and in its place created a space inspired by Victoria's modern breweries with a country vibe, complete with stripped-back timber and intricate detailing.

The physical renovations are nothing short of impressive and The Little Vineyard is now a beautiful and unique events space, but its transformation doesn't end there! We also wanted to create a phenomenal wedding experience for clients in its entirety, from start to finish.

Picture yourself standing in front of a cascading vineyard with your family and friends, surrounded by beautiful Yarra Valley scenery as you exchange your vows of love. After the ceremony, you and your bridal party explore the estate and all its beautiful location spots to capture picture-perfect images as lasting memories—our vineyard at sunset is particularly a wedding photographer's dream! You then return to your guests under an outdoor patio, surrounded by a warm, romantic glow of fairy lights.

As your guests mingle and enjoy their drinks, our professional staff roam with gourmet canapes and trays of sparkling wine for your guests to toast you as newlyweds. After this delightful social hour, it's time to retreat to the indoor reception area where you are seated at long tables resplendent in naked timber finish.

The feast can now begin—and feasting-style receptions are our specialty! Going Gourmet is continually praised for its exceptional food, with our quality produce prepared by outstanding chefs, and designed for food lovers without the unnecessary bells and whistles. Our focus is providing you with mouth-watering, beautiful and tasty food, paired with delicious craft beer and wine on tap. Protein choices and sides are all within arm's reach in the centre of the tables, allowing guests to easily help themselves and each other, creating an intimate, family-style dinner atmosphere. No bride or groom will have to worry that there isn't enough food, as no guest will leave a Going Gourmet wedding hungry. That's our promise!

Our contemporary, raw timber bar provides an array of options—local craft beers, boutique wines and ciders, to name a few—ready to be served by our fun and experienced bartenders as you celebrate the evening away.

From the Waiters and Chefs through to the Event Managers, our humble and dedicated team is an extremely passionate bunch of people! Aside from being experienced in our fields, we absolutely love what we do, and we work together to bring a new level of service to The Little Vineyard. We want you to recognise the warm, familiar face of your Event Manager on your special day, feel at home, and know that you are in capable hands.

The Little Vineyard has certainly seen some big changes these past few months, but don't take our word for it—come and experience this unique venue for yourself and truly feel the charm and magic it has to offer for your wedding or event. Book a tour with one of our friendly Event Managers today!