One of our most enquired about types of events would actually be Christenings! In this day & age, the beautiful religious tradition has not been lost and these humble, family events are a favourite for us to be a part of. Nothing brings people together like to celebrate the start of life for a baby, and even if they're not too sure about what's going on themselves – family members from far and wide flock to be a part of their big day. Now with all these family members in the one place, pressure is on for Mum & Dad to play host & make sure that the day is a success, and after the service is over, the most important factor for that is of course – food!

We've now done a few Christening events in our day, and we'd now like to share with you our top tips & suggestions on how to make this amazing day a smooth and fuss free event;
Choose your location! Depending if you have a family of 20 or 80 will definitely influence this choice however some basic guide lines include how close the venue is to the Church, if you're thinking of hosting the celebrations at home always consider how big your backyard is & how accessible kitchen etc. are. Also, if you have a wet weather plan in place (can everyone squeeze in your lounge room!?) If you're thinking of a venue generally halls or local yacht/lifesaving clubs are quite popular for larger events. Don't worry too much about cooking facilities as we can always bring our own bench top ovens/BBQ's to ensure your meals are cooked to perfection!

Alright so your location is set, now about that menu? It really does come down to personal preference and what your vision for the day is, however in our experience a great buffet will always do the trick. It's flexible to suit any amount of guest numbers and allows your guests to fill up their own plate and choose the items that they really love. It's also nice and social/interactive which suits perfectly for a family event! For the lovely summer months, you can't go past the BBQ menu, whereas for Autumn/Winter the Gourmet menu will have everyone feeling cozy and warm. Both options include your bain-marie set up and all plates, cutlery & napkins so we just need a bit of space to set up & off we go. A bonus is you're also not left with 50 plates & sets of cutlery left over to wash & dry because our team takes it all off site for an efficient & simple pack down once everyone is stuffed full.

Did someone say sweets? The favourite part of any family gathering is that mouth-watering choc ripple cake that Aunty so & so always makes or that perfect Pav from Nan – now we may not be able to replicate these exactly however we have an amazing range for the sweet tooths to sink their teeth into once the main plates have been licked clean. How about a fresh, handmade Italian Bombalini Doughnut served up with citrus cream & pistachio sugar crumble? Or maybe a Raspberry Eton Mess is more your style with its smashed meringue & white chocolate & vanilla cream? Or if you're after something lighter so that Christening Cake still gets devoured, we have our delightful bite sized Petit Four Canape Desserts, which are sure to brighten up any dessert table. With a mix of flavours from Chocolate Brownie to zesty Citrus Curd there will be something to suit all taste buds & fresh fruit always accompanies.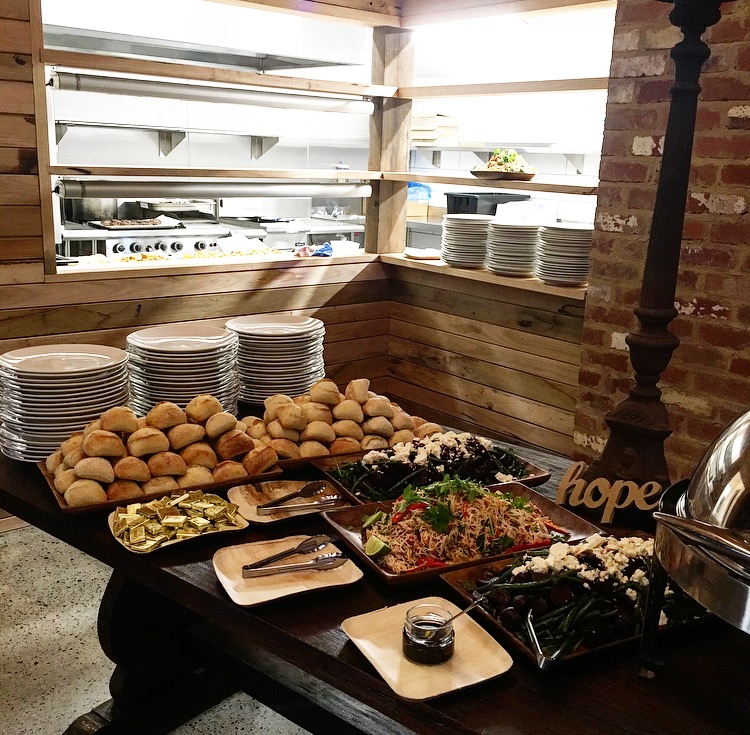 If you follow those three steps, and tick each on off as you go you're sure to have a successful & relaxed family gathering which leaves everyone well fed & satisfied without out you having to lift a finger.

We talk you through everything step by step & work closely with you to make sure all details are covered and everything is exactly as you ask! We are always just an email or phone call away to answer any question great or small.

So, what are you waiting for!?